Recently, many businesses have modified their supplier diversity goals to include diverse suppliers in their supply chains. Businesses get diversity status if they are at least 51% owned and operated by a person or people in an under-represented group. It may include minority-owned business enterprises, women-owned businesses, veteran-owned small businesses, LGBTQ-owned businesses, businesses owned by small and disadvantaged groups, and service-disabled veteran-owned small businesses.
A company's supplier diversity program defines its culture and its commitment to fulfilling its corporate social responsibility by generating economic opportunities for minority groups and disadvantaged communities.
Societal Benefits Of Supplier Diversity Program
The importance of a diverse supplier base must be addressed. As explained below, an organization delivers broader societal benefits by encouraging inclusive supply chains.
Supplier diversity programs help all suppliers gain equal accessibility to sourcing and purchasing opportunities. This diverse culture can help the organization focus on the individual capabilities of the diverse suppliers and provide better opportunities for them while benefitting from their resources.
A diverse supply chain can showcase the demographics of its community better than non-inclusive supply chains. It helps organizations gain insight into which groups to focus on better.
Minority-owned businesses and other certified diverse suppliers can get a chance through supplier diversity programs to play their part in contributing to the economy of the nation. There is greater scope for innovation due to the diverse range and the introduction of more products and services provided by diverse suppliers.
An efficient ESG reporting software can help organizations track their supplier diversity programs.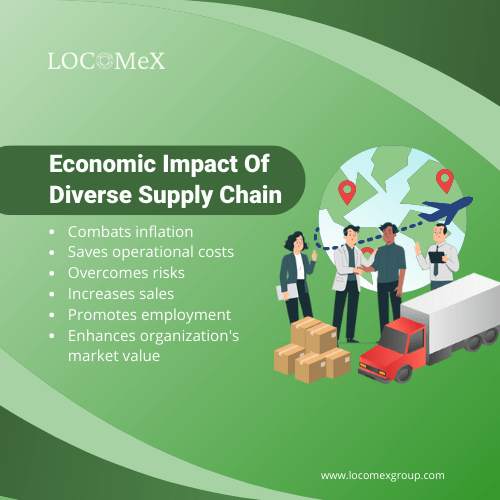 Economic Impact Of Diverse Groups On Supply Chain
Diversity and inclusion in a supply chain can help combat many economic challenges an organization may face in tough times. Following are the points that showcase this relatability.
1. Enables to combat inflation
Inflation is hard on everyone. It could get tough to procure raw materials and deliver essential goods through the supply chain network in times like the Russia-Ukraine war, Covid-19, or other situations that could cause an alarming inflation rate. In such cases, a large chain of inclusive procurement can source the best possible vendors from diverse groups to the procurers.
2. Saves operational costs
Diverse suppliers are more flexible as they have less hierarchy and are faster in delivering goods and services. Also, diversity promotes competition among the different vendors, which allows them to provide high-quality goods at lower prices.
It may be complicated to manually track the progress of the supplier diversity goals of an organization. That is why most companies use
ESG reporting software
to track and reach their progress faster.
3. Helps in overcoming risks
There could be times when raw materials are unavailable due to global issues, geopolitical factors, or unforeseen disasters. An organization with a diverse supply chain can withstand disruptions and continue its operations better than non-inclusive organizations due to the resiliency added to its network by diverse businesses, which moves the supply chain toward equilibrium.
For instance, Pure Storage, a company headquartered in Mount California, US, is a great example of a diverse supply chain that withstood the COVID-19 pandemic due to its resilience. The company's ESG report for 2021 states that with annual revenue of $2.18 billion, the company has a 29% Y/Y growth despite the pandemic.
The diverse groups have much to contribute to the nation if provided an opportunity. Companies can invest in developing diverse suppliers by offering technical assistance, investing in management education of diverse communities, conducting supplier diversity conferences, and launching business mentoring programs.
Diverse spending by many organizations profoundly impacts the local communities in production, providing employment, income, and wage generation and increasing tax revenues, thereby boosting the economy by increasing the GDP.
For instance, Amazon AWS published the 2020 supplier diversity economic impact report showing that the company had a supplier diversity spend of 37.66%, which amounts to $2.4 billion, with more than 600 diverse suppliers in 2020. The investment led to $3.5 billion in contribution to the US economy while sustaining 23,153 jobs.
6. Enhances the organization's market value
An inclusive procurement strategy boosts the economic growth of the organization and the nation. When the procurement strategies include a broader community of potential suppliers, it draws a wide customer base, increasing sales turnover and bringing profits. A successful supplier diversity program also speaks volumes of the organization's commitment to the community and corporate social responsibility. People would prefer to work for a socially-committed organization, and there is increased demand, so the organization's market value increases and establishes its brand reputation.
To know your company's ESG score or supplier diversity percentage, ESG reporting software can greatly help.
Ways To Launch A Successful Supplier Diversity Strategy
Promoting a great company culture is the right way to kickstart an effective supplier diversity program. The company should believe in unity in diversity and have a broad perspective on including the underprivileged.
The procurement team should develop a strategy outlining the organization's proposed supplier diversity programs. It should outline how the strategy maps to the company's business goals, the steps involved in implementing the strategy, and why the return on investment could be sufficient to lead the business toward success. The end stakeholders should be educated regarding the purpose and effectiveness of the strategy to win their support.
The organization should identify certified diverse suppliers and create a policy for inclusion. It should also identify the existing diverse suppliers in its supply chain to know its actual diversity spend before it heads toward more supplier diversity.
Collaboration with peers to gain new ideas is also essential to stay on par with them. Your company should note its initiatives and check if you have implemented them.
Attend events related to supplier diversity initiatives to expand your network and promote inclusion. Attending the programs hosted by agencies that provide certification to diverse suppliers would be beneficial. Some such agencies are NMSDC, WBENC, and USPAACC, to name a few.
Allocate a dedicated professional to manage diversity in the supply chain and takes care of the implementation of business strategies.
Track progress periodically by leveraging technology. The right ESG reporting software makes the job easy.
The Best ESG Benchmarking Tool For Your Supplier Diversity Programs
LOCOMeX is a leading AI-powered platform for all your supplier diversity needs. With its wide community outreach and engagement features, it offers great
supplier diversity solutions
for enterprises, prime vendors, and suppliers. They have various cloud-based solutions to take care of all your critical work. Isn't that a great step for your professional success?