THE BIRTH OF LOCOMEX: GLOBAL PROOF OF CONCEPT WITH LOCAL REFINEMENT
I had the wonderful opportunity to work and collaborate with the first Executive Director appointed by the Nigerian President to lead the newly created "Nigerian Content Development & Monitoring Board." This board was formed due to the "Nigeria Content Act" passed into law by the Nigerian legislature to increase & improve the level of supplier diversity and local content within the energy industry's supply chain & value chain. The improvements to the local economy have been unprecedented. Through these efforts, the LOCOMeX Project was created, and the proof of concept was validated.
When I returned to the United States, I built on the success and lessons learned, traction, and knowledge gained in Nigeria to tweak & pivot the LOCOMeX Project for the US environment, with a focus on supplier diversity & localization of supply chains. I have worked as Project Manager & Manager of Project Portfolios for government agencies and Electric & Gas Utilities in the US, managing & leading teams for a single project worth over $100M and an annual capital investment program worth $500M in New York State. These efforts required hands-on leadership & management across infrastructure & product development, supply chain management, community outreach & engagement, and project management.
Supplier diversity & local content/localization have been a driving force for improving countless localities, so I decided to drive change through supplier diversity program best practices. In this case, the solution is an online digital platform that combines everything a company needs to thrive in this environment. That is how LOCOMeX was born.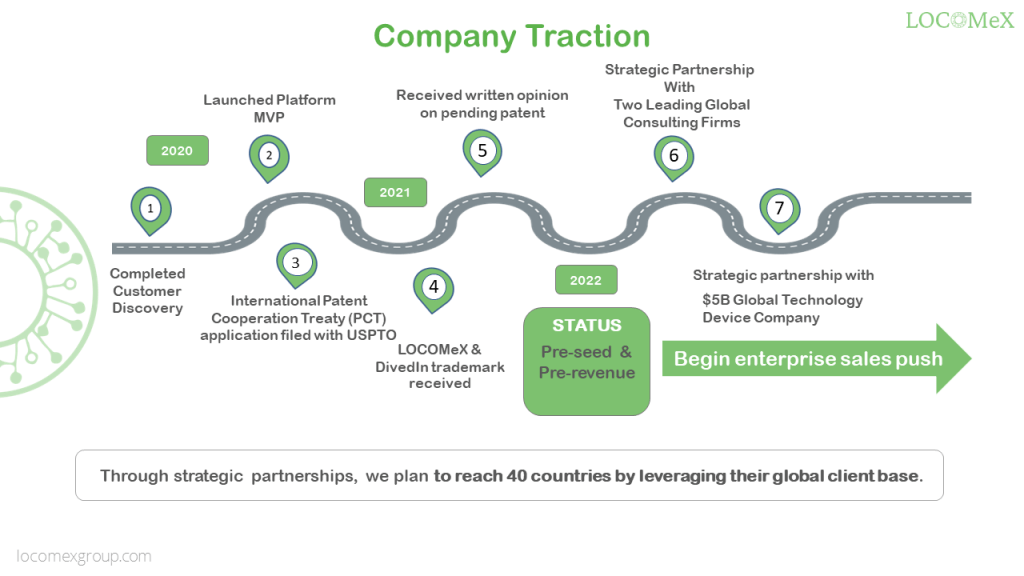 We have been on this project since 2020. During the initial stage, we conducted product-market fit research. We interviewed diverse companies as well as VPs & Directors of Supplier Diversity Programs, Supply Chain Executives, VPs of Procurement, Supplier Diversity Program Managers, Project Managers, MWBE Compliance Managers, VP of Real Estate Development, VP of Operations, VP of Business Development & Strategic Partnerships, Chief Diversity Officer and C-Suite. We have gleaned expertise from top tech talent, engaged with investors, adjusted the investor package based on feedback, developed & launched the minimum viable product (MVP), built a demo of phase 1 products, secured trademark protection & filed patent protection with USPTO, and refined the LOCOMeX brand.
AYO'S JOURNEY AS AN ENTREPRENEUR ENABLING THE LOCAL COMMUNITIES
As a serial entrepreneur in the United States, Ayo had built a neighborhood coffee shop from the ground up into a thriving business, where people from a once low-income neighborhood were redeveloped into a diverse demographic community. They called it their neighborhood coffee shop. Unfortunately, he had to close down the coffee shop because of the 2008/2009 global financial crisis and its recessionary economic impact. The most painful experience for him was laying off his workers. Plus, people no longer had their beloved neighborhood coffee shop.
CG GLOBAL MANAGEMENT SOLUTIONS, LLC
Ayo also founded and built a professional service firm (CG Global Management Solutions, LLC) to offer project management, construction management & energy management consulting services, from startup to now a growing business!
CRITICAL BULK TRANSMISSION PROJECT GETS SECOND LIFE & BECOMES FIRST IN USA
Due to the project's importance to the national security of New York State and the United States, Ayo was assigned to manage a troubled bulk power transmission system project. This electric & gas utility project in New York State was worth over $100M.
When he was assigned to be the lead project manager, the project had a troubled status and needed immediate turnaround to meet the strict budget and fixed project completion date set by the Governor of New York. With the support of the company's executive leadership team and access to all the resources he needed, Ayo was able to put together a diverse team of turnaround subject matter experts that complement each other. As a team, they worked to recover the "Engineer, Procure & Construct (EPC)" schedule and fast-track the schedule to meet the fixed project completion date. They conducted several town halls for community outreach & engagement; They met with local farmers worried about the project's power line route passing through their farmland and how they would compensate them at fair market value before they acquired the rights-of-way (ROW) required for the project.
Ayo also led the project team to re-engineer this first-in-the-country innovative bulk power transmission line system that transferred about 1000 MW of energy from a renewable energy source (hydropower plant) in Canada through upstate New York to the downstate New York City area to save costs and bring the project under the authorized strict project budget. It was a sigh of relief and joy the day this project went live, a.k.a. "Go-Live," without any problems.
1000 MW of additional clean, renewable energy was delivered to New York City to replace a planned fossil fuel power plant shutdown! He would not have been able to lead the team to accomplish this turnaround project success without the team of project experts who made it happen alongside him. He credits the success to the whole team.
With the extensive experience of having closely worked with funded organizations, Government institutions and key investors, Ayo understands the importance of delivering value throughout the project delivery phase. With our futuristic goals in mind, we, at LOCOMeX, are sure to help our investors reap the benefits and reach their RoI expectations while being compliant to regulations and being sustainable, under the able guidance and vision of its founder – Ayo Jemiri