What is that one overlooked aspect of supplier diversity programs? It is engaging employees in sourcing new suppliers.
Many employees have links with local company owners in their localities, and leveraging these connections can enormously enhance the potential supply base. It is particularly true for workers who are a part of your company's employee resource groups (ERGs) or inclusion resource groups (IRGs) for women, veterans, persons with disabilities, LGBTQ+ individuals, or BIPOC (Black, Indigenous, or People of Color) people.
On the same note, educating your employees about creating your supplier diversity program can cultivate a sense of belonging and demonstrate your company's commitment to diversity. Because when employees feel invested in this cause, they are more likely to contribute to your supplier diversity efforts, strengthen your overall supplier diversity initiatives, and contribute to economic growth. This way, supplier diversity, staff engagement, and retention can be a win-win situation.
Significance Of Supplier Diversity Programs
Supplier diversity is a crucial part of DEIB (Diversity, Equity, Inclusion, and Belonging) leadership, and that's why it should not just be a priority within the procurement department but also across the entire organization.
Also, improving procurement through the implementation of a supplier diversification program can be very beneficial. Doing so can help expand your access to innovative products and services while gaining benefits like improved employee experience and the ability to recruit top talent.
Likewise, businesses must ensure that staff members are involved in supplier diversity initiatives if they want to maximize their effectiveness.
However, apart from your procurement teams, most of your staff might have differing views on what your business is doing in this area. Therefore, educating staff members about your supplier diversity program might help them feel like they work for a firm that values diversity.
Different Levels Of Supplier Diversity
Many organizations have different ways of categorizing their suppliers based on global supplier diversity and various criteria, such as ownership by minorities, women, veterans, disabled individuals, and members of the LGBTQIA+ community. Recently, these classifications have become more specific, including sub-groups within these minority categories.
Companies prioritizing diversity, equity, and inclusion (DEI) strategies attract more investors. Similarly, suppliers who consider environmental, social, and governance (ESG) considerations are also preferred. Expanding the scope of supplier diversity initiatives can create more job opportunities for minority-owned businesses in higher-paying industries and occupations that are less likely to be replaced by machine learning and AI.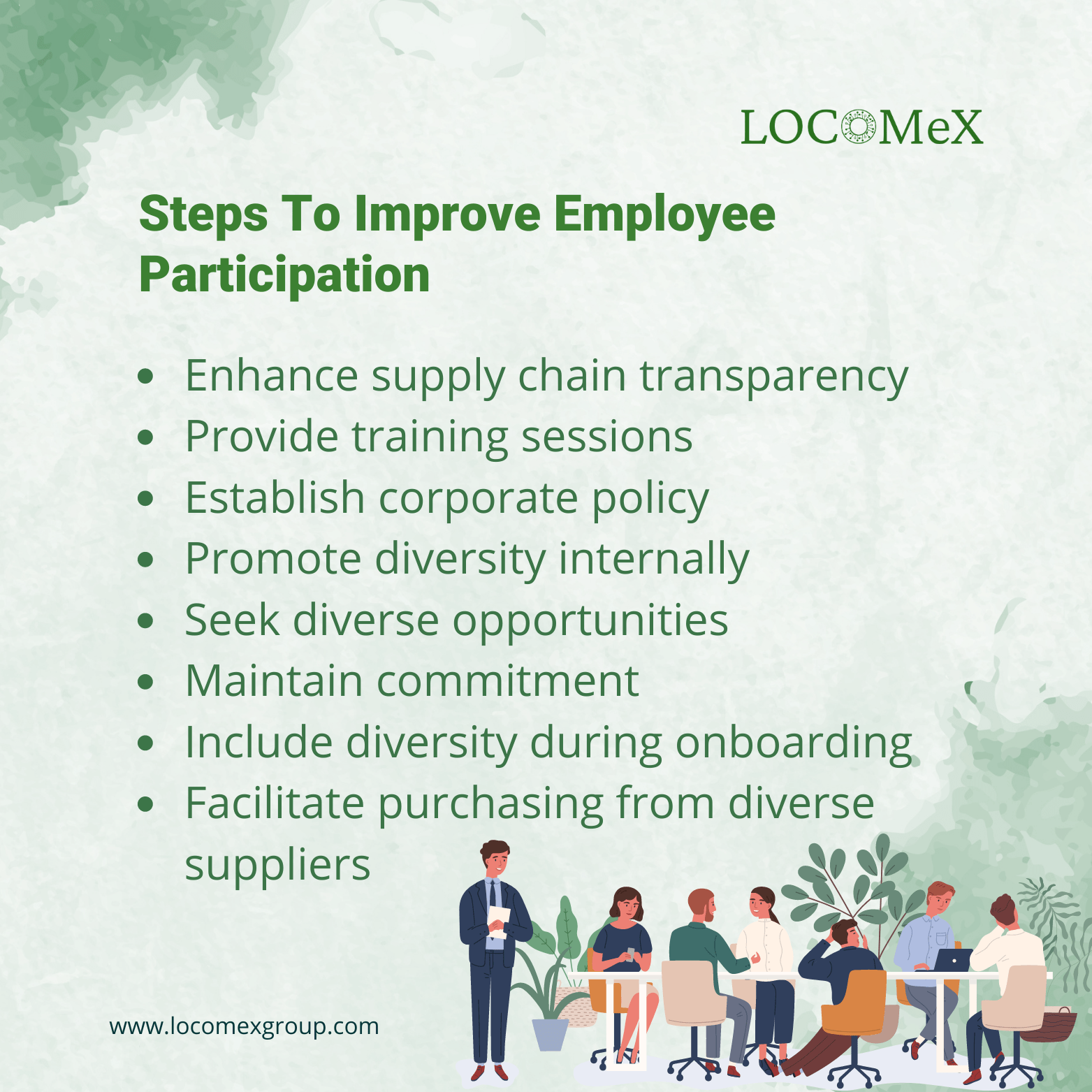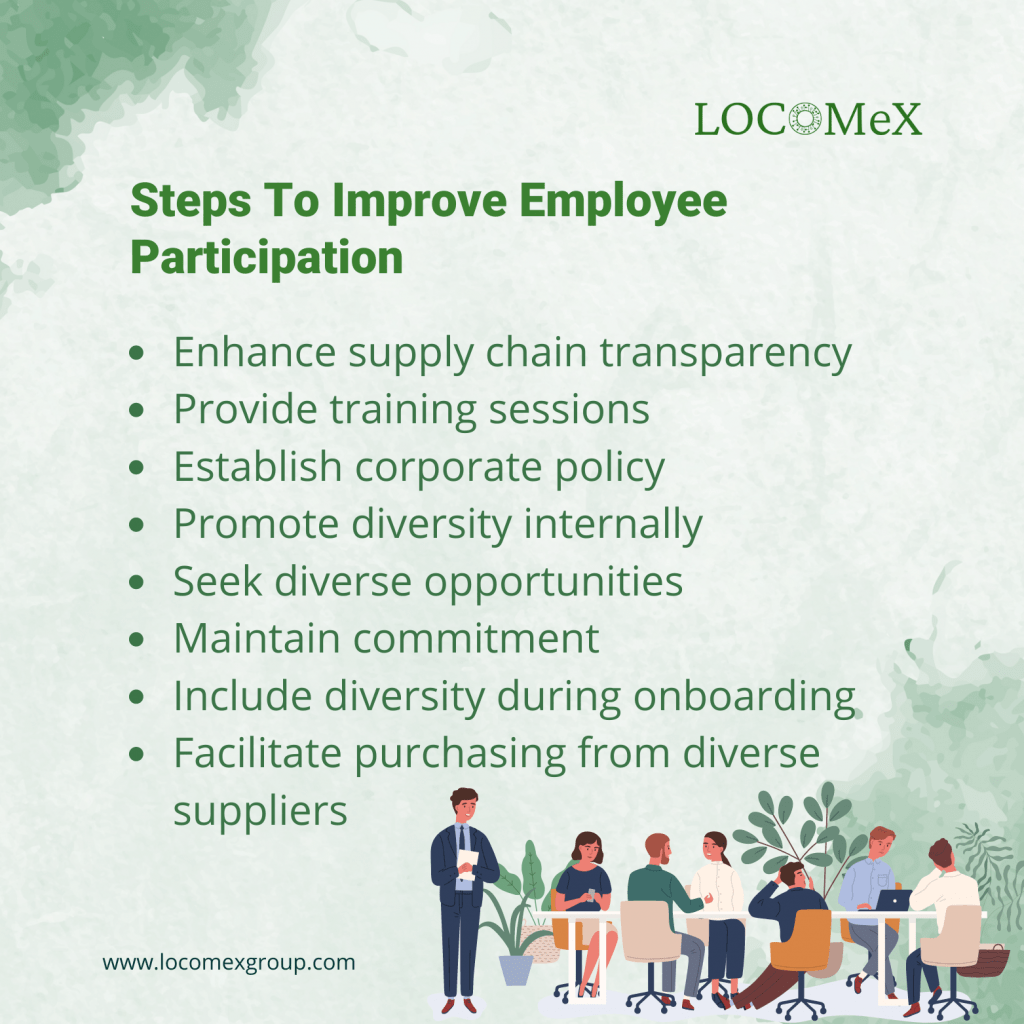 Steps To Improve Employees Engagement In Supplier Diversity Efforts
1. Enhance your supply chain transparency
Boost your organization's supplier diversity goals by increasing supply chain transparency. Eliminate barriers obstructing diversity goals by communicating your company's products and services needs to minority suppliers. Identify your current spending with diverse suppliers by documenting their diversity categories and spending information.
2. Provide training sessions
Encouraging a diverse supplier to meet your selection criteria benefits all parties involved. A well-designed supplier training program provides practical guidance to help suppliers win your business. These programs assist vendors in building capacity, accessing capital, and becoming more "contract ready" for your organization. Additionally, they promote supplier diversity and offer you early exposure to innovative and growing companies.
3. Establish a corporate policy
One way to enhance supplier diversity efforts is by identifying areas that require improvement, such as promoting women and minority-owned businesses and increasing racial diversity in the supply chain. Creating a policy statement that identifies these groups would be beneficial, making it easier to assess potential suppliers.
4. Promote supplier diversity efforts internally
It is important to secure the support of the CEO and designate a senior manager to prioritize a diverse supplier. It is also beneficial to seek out individuals who advocate for diversity to help raise awareness and educate employees on its advantages.  
5. Look proactively for diversity opportunities
Incorporating supplier diversity goals into your organization's sourcing strategy encourages proactive engagement with diverse suppliers and ensures a fair and consistent screening process.
To achieve this, procurement professionals can leverage their business networks and seek assistance from specialized organizations such as the National Minority Supplier Development Council, the Women's Business Enterprise National Council, and the U.S. Hispanic Chamber of Commerce, which provide access to certified diverse suppliers.
6. Maintain a strong commitment
It's important to establish a consistent approach. Annual audits are necessary to ensure that activities and results align with policies.
To guarantee that everyone in the supply chain meets expectations, cooperation from internal stakeholders, business partners, and a variety of suppliers is also essential. Many organizations have gained momentum by highlighting their programs and drawing attention to their business practices aligning with their mission.
7. Include diversity in your onboarding process
As part of the onboarding process for suppliers, it is important to ensure that they fill out a business classification form that includes diversity and any necessary forms and contracts. Determine the certifications and diversity categories your program will utilize, whether a classification standard like Intel's or a self-classification.
Furthermore, request that new suppliers provide any third-party supplier diversity certifications they have earned. The objective is to gather as much data as possible to document and monitor.
8. Facilitate Purchasing From Diverse Suppliers
Employees who can make some of these purchases themselves are more likely to support supplier diversity initiatives. You can encourage non-procurement staff to purchase from diverse suppliers to increase tail spend as they frequently make purchases on their own. Instead of asking employees' to find these vendors on their own, point them in the proper way.
LOCOMeX are data-driven software vendors that guide you through your digital transformation journey to meet supplier diversity goals and local content compliance in a possible manner. Their
supplier diversity program management software
effectively manages supplier diversity, local content opportunities, and community outreach.
Have inquiries about how to improve employee engagement and maximize the benefits of supplier diversity efforts? Contact our experts right away.