Supplier diversity is a business strategy involving and engaging with proactively seeking diverse vendors regarding ownership, management, and workforce. It can include women-owned, minority-owned, veteran-owned, and LGBTQ-owned businesses. Optimizing supplier diversity aims to create a more inclusive and equitable supply chain that can benefit businesses during procurement, including improved innovation, greater access to new markets, and enhanced reputation and brand value.
To enhance supplier diversity programs, businesses must leverage data-driven insights and market intelligence in procurement decisions. It involves collecting and analyzing data quality on supplier diversity performance, identifying areas for improvement, and implementing targeted strategies to drive progress.
What Is A Data-Driven Supply Chain?
A data-driven supply chain operation is a procurement management approach that uses data analytics and tools like
ESG reporting Software
to drive decision-making and improve the overall performance of the organizations. It involves collecting and analyzing data throughout the supply chain, including data on vendors, inventory, transportation, and customer demand.
The right data can help improve companies, and the industry can optimize its supply chain leaders to operate and improve efficiency, productivity, and customer satisfaction. It acts as a trusted advisor and provides expert guidance in maintaining supply chain operations. To meet evolving customer demands, the supply chain's procurement function must transform with new tools and processes.
The supply chain leaders rely on advanced technologies like sensors, IoT devices, and AI and machine learning algorithms to collect and analyze data in real-time. It enables business opportunities to identify trends and patterns, optimize processes, and make sourcing decisions based on accurate and real-time information. For example, Organizations can use predictive analytics to forecast demand and adjust inventory levels accordingly or use live data on transportation routes and traffic to optimize delivery schedules and reduce transportation costs.
LOCOMeX offers
Supplier Diversity Reporting Software
that measures the constant success rate of economic growth and progress in corporate sustainability. Data-driven supply chain enterprises collaborate and communicate across the supply chain solutions, including the providers and customers. By sharing external data and key insights, small businesses can build more resilient and agile procurement that can respond quickly to changing markets and customers' future needs.
Diverse-owned and women-led businesses are emerging as rapidly growing segments in the U.S. economy. According to research in 2019, the Hackett Group found that US firms increasingly adopted supplier diversity programs for reputation management, diverse culture, and community investment rather than legal compliance.
Data-Driven Supply Chain Optimization: Best Practices
1. Supplier diversity goals
The first step in optimizing supplier diversity initiatives is establishing clear goals aligning with the overall business strategy. It involves setting specific targets for the percentage of spend allocated to diverse suppliers and the types of providers that will be prioritized. These goals should be ambitious yet achievable and regularly reviewed and updated based on performance.
2. Collect and analyze supplier diversity data
The next step to inch towards
supplier diversity goals
is to collect and analyze data on supplier diversity performance. This can include data collection on the number and types of diverse distributors in the supply chain and the percentage of spend allocated to these distributors.
It can also include real-time data on the provider's performance, such as on-time delivery, quality, and cost. Procurement teams must proactively optimize provider relationships by analyzing market dynamics and supplier cost structures, as suppliers rarely offer price reductions due to tax impacts or other factors.
Organizations can leverage
Supplier Diversity Management Software
tools to collect this data, including supplier databases, spend analysis software, and distributer scorecards. By analyzing this data, businesses can identify areas where supplier diversity performance is strong and areas where improvement is needed.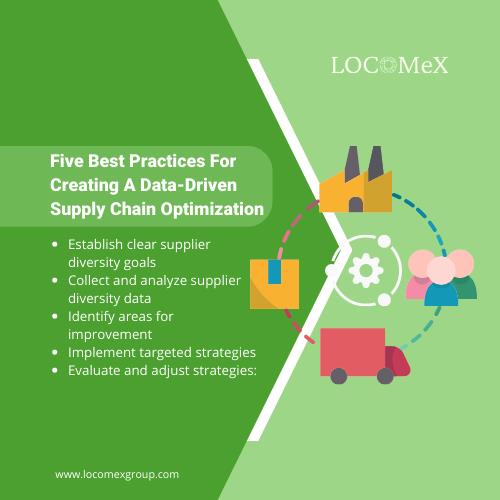 3. Identify areas for improvement
Once the data set has been analyzed, the next step is to identify areas for improvement. These can include areas where spending is not allocated to diverse suppliers and where supplier intelligence could improve. It can also include areas where supplier diversity could be improved in specific categories, such as superior technology or logistics.
The industry can conduct a supplier diversity gap analysis to identify these areas. It involves comparing current performance to established goals and identifying areas where there are gaps. Once these gaps have been identified, targeted strategies can be developed to address them.
4. Implement targeted strategies
The next step is to implement targeted strategies to drive progress in areas where improvement is needed. It can include strategies such as:
Increasing outreach and engagement with diverse suppliers: Businesses can develop targeted outreach programs to engage with and build relationships with diverse suppliers. It can involve attending supplier diversity events, leveraging social media, and hosting supplier diversity fairs.
Providing training and development: Companies can provide innovative training and development opportunities to diverse suppliers to help them improve their performance and competitiveness. It can include training in finance, marketing, and supply chain leaders.
Creating incentives and recognition programs: Businesses can provide incentives and recognitions to encourage diverse provider participation and performance. It can include award programs, bonuses, and long-term partnerships.
Monitoring and measuring supplier performance: The enterprises can monitor and measure distributor performance to meet established goals and expectations. It can include regular provider scorecards, performance reviews, and audits.
5. Evaluate and adjust strategies:
The final step is to evaluate and adjust strategies based on performance. It involves reviewing unparalleled data intelligence and progress against established goals and adjusting strategies to ensure continued progress.
Reliable
Supplier Diversity Program Management Software
can help companies accurately track the details of their supplier diversity program, as many assume to have met diversity spending requirements laid out in government contracts, when in fact, the spending is often concentrated with a few diverse-owned businesses, leading to a false measure of success.
To optimize supplier diversity, businesses must commit to a continuous improvement process stimulated by data-driven insights and market intelligence. By setting clear goals, collecting and analyzing data, identifying areas for improvement, implementing targeted strategies, and evaluating and adjusting strategies.
Future Of Supplier Diversity Programs
The Future of supplier diversity programs is expected to continue growing in importance as businesses recognize its benefits. With increasing focus on social responsibility and inclusion, supplier diversity programs will become more integrated into overall business strategy.
Additionally, data and analytics will play an even greater role in supplier diversity management, enabling the industry to measure and improve performance. Supplier diversity spend will also become more global, with companies seeking to work with diverse suppliers across different regions and countries.
Partnerships and collaborations between businesses, suppliers, and diverse communities in the industry will continue to drive innovation and create new opportunities for growth and development. Overall, the Future of supplier diversity looks promising as businesses recognize the value of diverse suppliers and continue to prioritize inclusion and social responsibility in their operations.
For a complete cloud-based PES platform that enables global suppliers to connect with enterprises and organizations, contact us at LOCOMeX.