Supplier diversity in the corporate business world is a company's commitment to responsible sourcing of underrepresented groups like minority or women-owned businesses. The procurement leaders and leading companies have focused on creating opportunities for minority-owned businesses as an act of corporate social responsibility. These diversity initiatives by organizations help build strategic relationships with diverse suppliers and increase business value while achieving supplier diversity.
Supplier diversity is considered the central pillar for the development and growth of businesses. The market research data generates a business strategy that helps businesses to create a diverse supplier base. It emphasizes the
creation of a diverse supply chain
that works to secure the inclusion of diverse groups of potential suppliers in the procurement plans for government, not-for-profits, and private industries.
So how can companies maintain their commitment to prioritizing supplier diversity while also reaching their objectives? Read on to know more.
Inclusion Of Diverse Suppliers
Diverse suppliers are businesses operated and owned by an individual or a group that is part of a traditionally underserved group. These diverse suppliers often encounter hurdles that challenge their startup efforts, such as networking opportunities and access to capital, affecting their long-term sustainability.
The supplier diversity strategies focus on the pain points of diverse suppliers. The growth of small businesses directly impacts a nation's economy. Because most diverse businesses are small, they aid their communities' economic recovery and sustainability. Research shows that when companies increase their diverse spending, they see an increase in market share. Specifically, the correlation between high diverse spending and increased market share was superior to the ROI (return on investment) from companies with low diverse spending.
Benefits Of Aligning With Supplier Diversity
Supplier diversity can be defined as a business strategy that secures a diverse supplier base in supplying services and procuring goods for any organization. It emphasizes the creation of a diverse supply chain that works to secure the inclusion of more diverse suppliers, organizations, and groups in procurement plans.
In other words, supplier diversity can be referred to as a supply chain that integrates businesses owned by diverse groups or individuals.
A successful supplier diversity program and commitment benefit a company in many ways, such as:
Promotes modernization through the launch of new products, solutions, and services.
Provides various approaches to procuring goods and services.
Drives competition between the company's existing and potential vendors on price and service levels.
Allows a company to capitalize on new opportunities for business expansion as new consumer needs emerge as a result of shifting demographic realities.
According to a first-annual analysis of the 2023
supplier diversity benchmarking survey report
, 466 companies across more than 15 industries have invested nearly $1.4 trillion in actual supplier spending.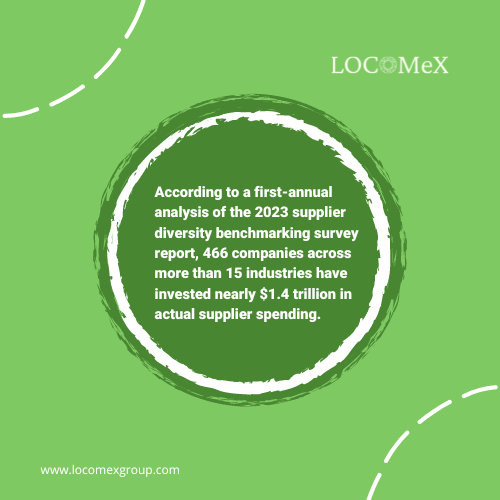 Steps To Align Supplier Diversity With Modern Corporate Objectives
1. Set definite goals and measures.
Setting up definite goals and executive leadership is significant in monitoring and renewing supplier diversity programs. Setting up a Supplier diversity program management software with the help of a strategic partner is extremely important to ensure that the organization has adopted a top-tier diversity program. Once set up, constant evaluation and innovation of new benchmarks and key metrics are equally important to capitalize on new opportunities and see constant growth.
2. Identify supplier diversity and inclusion (SDI) drivers.
Raising a toast to the company's DEI (diversity, equity, and inclusion), celebrating the well-achieving supplier diversity program, and constantly updating the organization about the successful supplier diversity program is important in felicitating supplier diversity efforts.
Collecting supply chains and supply base data and deep diving into the supplier diversity spend to understand the supplier stand and portfolio.
Supplier diversity data analytic solutions
provided by data analysts help find diverse vendors. Diverse vendors can help you grow your customer base by linking your supplier diversity spending efforts with sales and marketing efforts.
3. Internally encourage supplier diversity efforts.
It is very important to have a scrutinized supplier diversity program with supplier diversity goals and supplier diversity objectives. These set-up goals and supplier diversity objectives should be approved and strongly backed by the executive leadership team for smooth execution at all levels of an organization. Also, including stakeholders and staff members across the entire organization will increase the likelihood of the program's success.
Communication strategy plays a significant role in the organization as all units must be on the same page about goals, challenges, and objectives. Training or communications across all departments on using the supplier diversity program software is essential to consistently balance the current and diverse suppliers and hire new ones. Spreading a supplier diversity program within an organization is quintessential for smooth functioning across all departments in a firm.
4. Track progress and establish accountability.
Being specific about the diverse businesses the program will focus on is vital. Firms should have a capable executive dedicated and assigned to manage supplier diversity efforts.
The business strategy aligned with supplier diversity objectives and the company's mission and values wins the suppliers' confidence, the in-house executive team, and stakeholders. This alignment gives in to innovation and new opportunities and prevents the organization's carbon footprint.
5. Automate hiring program for new entrants
A clear process for hiring new supplier diversity program is ideal that forms initiate an automated sourcing process with the help of software solutions and provide an open field for new diverse suppliers with proven market experience.
Last but not least, promoting the diverse supplier group and diversity program to indicate the supply diversity spend of the organization is important. Any achievements and communication with diverse supplier groups are necessary to create expansion in the supply chain market.
How LOCOMeX Decodes Supplier Diversity Programs
LOCOMeX is a colonist in developing
supply chain optimization software
to guide organizations in increasing supplier diversity. LOCOMeX provides a total solution with their
supplier diversity program management software
for supplier diversity-inspired organizations and local content opportunities or program management with engagement features and community through various channels. They are data solution experts that associate with media outlets to provide successful diversity inclusion in local communities and the supply chain.
With AI-First (artificial intelligence) technology for onboarding approach and supplier registration, LOCOMeX executes the following roles as a part of their supply diversity optimization:
Match diverse suppliers with suitable opportunities.
Carefully analyze self-certifications & various certifications of diverse suppliers.
So, reach out to our experts and acquaint yourself with the services.