Among the many aspects of corporate social responsibility that a business demonstrates, supplier diversity plays an important fiddle. When a business deals with diverse vendors, it creates a win-win situation by benefitting the new diverse suppliers and the business. Entrepreneurs can track the effectiveness of their supplier diversity strategy by using the
best supply chain optimization software
. .
Effective Supplier Diversity Program - Benefits
The Supplier Diversity Benchmarking Report of 2023 that analyzed more than 95000 diverse suppliers reveals that the top 10 diverse suppliers received 17% of all supplier diversity spend. It shows the concentration of diverse spending in top companies and suppliers. The concentration of spend with few suppliers represents business risk as it misses the opportunity to develop new suppliers. Every organization needs to invest in creating a diverse business ecosystem for the following reasons.
1.Provides opportunities for equality in the supply chain
The company's commitment to contributing to the welfare of society can be fulfilled by creating opportunities for diverse groups and minority communities in its supply chain. A diverse supplier base not only allows the economic growth of minority communities and backward groups but also lets them add to the nation's economy and thus assists the Minority Business Development Agency in its mission.
In the US, diverse supplier groups include minority-owned business enterprises, veteran-owned small businesses, women-owned business enterprises, businesses owned by LGBTs, and small business groups whose size is determined by the NAICS code. For the groups to be considered in these categories, a minimum of 51 percent of their business should be owned by minority persons.
2.Promotes business growth and efficiency
The inclusion of small and diverse suppliers in your business widens the pool of talent that aids your procurement strategies. Supplier diversity initiatives within your network bring in more reliable sources of qualitative goods and services, which means you have better chances of transacting the procurement process in a broader community with better performance and at comparatively low costs.
3.Fosters strategic relationships with local communities
One of the major benefits of having a diverse supplier base is that it works as a business strategy that helps improve existing supplier relationships and boost direct supplier relationships with diverse communities. It results in a wider network of potential suppliers for the industry organizations, providing them a competitive edge over other industry groups. A large network of certified diverse suppliers proves to be of significant value to the entire organization in times of crisis.
4.Evokes innovation in ideas
Supplier diversity organizations allow a better opportunity for innovation to stream into their functions because of the presence of different groups that specialize in different areas. Each diverse group contributes to the business functions differently through their unique methods. Their coherence can bring about sharing of best practices that could result in the emergence of new innovative methodologies.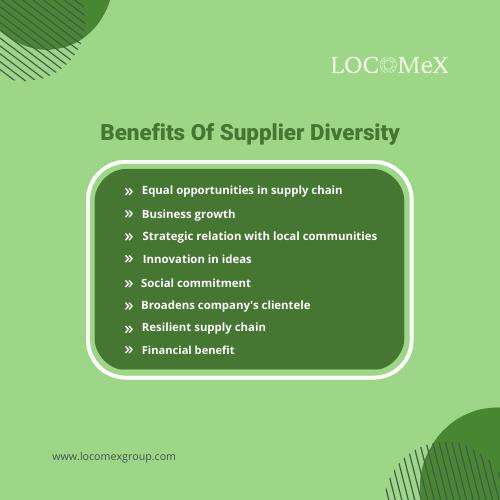 5.Demonstrates the company's social commitment
Incorporating diverse business partners broadens the company culture as it tends to cater to the various practices and lifestyles of its diverse groups. It shows the company's dedication to recognizing and uniting with all the existing groups without the feeling of racism and discrimination, which marks its high ethical standards.
An organization that includes diverse groups in its supply chain can have a competitive ESG score that brings its reputation and enhances its brand image. The
best supply chain optimization software
is available to track the ESG score of your business.
6.Broadens the company's clientele
Companies which partner with minority communities are likely to promote their products and services better. For instance, an e-commerce store procuring products from women-owned businesses can promote them separately on their website, making them platform partners. Clients who support the ideology of women groups will likely be impacted by this promotion and purchase the products. This way, the business's suppliers bring in more clients to the company, benefitting the marketing executives, who are among the key stakeholders within the organization.
7.Increases supply chain resiliency
The benefit that a diverse supplier base brings along includes making the supply chain resilient and strong. Many companies like Walmart, The North Face, and 3M, among others, have stood strong amidst the pandemic due to the resilience of their supply chain. Businesses can face a threat of disruption at any time and must be well-prepared to face the situation by creating resilience in their supply chain.
The supplier diversity program has a positive economic impact on the organization and the community in the long run, which can be measured in the following parameters.
Revenues generated:
It is a direct effect of your organization's partnership with diverse groups. Every order you place with them generates revenue for them. When you sell the products made from procuring their raw materials, you get more sales from their support network, benefitting the stakeholders, including the employees and the executives.
Creating employment:
The small and diverse groups participating in your supply chain gain employment due to your partnership, while the small groups, in turn, create employment within their supply chain by hiring employees to fulfill your order. The local and national economy greatly benefits from this interlinked chain of transactions that create employment. This employment, in turn, generates revenue in the form of taxes that the employees and organizations pay to the state.
Generating income:
Diversity in your supply chain causes individual employees in diverse groups to generate their own income and profits by working towards fulfilling your demand. It also generates income for your organization so that you get the required commodities at a lower cost through diverse sourcing.
Additionally, supplier diversity increases your organization's reputation, increasing your brand value in the market. In the long run, the shareholders, who are among the key stakeholders, witness a rise in the share price.
Your Search For The Best Supplier Diversity Data Analytics Solutions Stops Here
LOCOMeX is an authentic supplier portal that provides the
best supply chain optimization software
for your business needs. It is a wholesome solution for supplier diversity management. They help with team building, community outreach, and project management, through which they subcontract to vendors and several suppliers. Reach out to them to discuss your project needs today.