Supplier diversity is a variation in the supply chain process that includes diverse business groups which are usually underrepresented. It is not just a business strategy but also a social responsibility that creates a positive economic impact on the organization and the nation. Companies who wish to incorporate the supplier diversity strategy in their entrepreneurship seek the assistance of the right partner who can provide them with ideal supplier diversity data analytic solutions.
Benefits Of the Supplier Diversity Program
By including diverse suppliers in your business network, you allow the less-privileged racial groups and individuals to work with bigger social groups, creating a social balance, promoting their employment, and aiding in their financial progress and sustainability. Additionally, as an organization that encourages diverse suppliers, you also help to bring in their contribution to the nation's economy. Research by CultureBanx in 2022 found that if $20 billion were invested in including Minority/Woman Owned Business Enterprises, it would create
190,000 jobs and an income of $15 billion
for minority communities. While most millennials are vocal about how they prefer to work with a company that exhibits more social responsibility, more companies are now adopting this strategy. Through a well-implemented supplier diversity program, the organization gets a greater choice of vendors, some of who have a competitive advantage over others in terms of price and quality of the goods they deliver. The addition of new vendors marks the addition of new products that add to the business expansion. In the long run, companies with more diverse suppliers hold a greater market share than those with limited suppliers.
Supplier Diversity Certification
Suppliers need to identify themselves as 'diverse' to be visible to businesses seeking the inclusion of diverse suppliers. The fundamental criterion to be called diverse is that at least 51 percent of the business should be owned by an individual or group of people from diverse backgrounds. Hence, the first step is to identify the minority classification of the business, as businesses owned by African-Americans, Subcontinent Asian American Hispanic American and more, veteran-owned, women-owned, permanent US residents owned, small businesses as determined by the NAICS code, and more.
Various agencies like the National Minority Supplier Development Council, Women's Business Enterprise National Council, Asian Pacific American Chamber of Commerce, and many others are authorized to issue suppliers a certificate of their diverse origin. Organizations seeking inclusion through supplier diversity programs would easily find certified suppliers. 
Supplier Diversity Metrics For Leadership
Business leaders set a benchmark of the following metrics to determine the success of their supplier diversity program.
Percentage of spending with diverse suppliers
Most companies track their investment in diverse suppliers, intending to spend at least 10 percent. However, this goal of 10 percent gives the true picture only when explained by the absolute number of diverse suppliers the company deals with compared to the total number of suppliers.
Impact-oriented metrics
Companies measure the success of their supplier diversity program with the percentage of diverse suppliers who exceeded their performance targets, the number of innovative solutions they provided, and the monetary benefit that came along.
Community impact
Companies that include diverse suppliers in their network create employment among diverse groups. They measure the community impact by considering the number of jobs created, the product of the investment and the number of suppliers, and their contribution to the taxes. These numbers also contribute to the GDP of the nation. In brief, a data-driven approach to the factors listed above sets the goals of ambitious organizations which estimate the success of their program by comparing the achieved numbers against their targets. The best way to track the metrics accurately is through
supplier diversity reporting software
designed for the purpose.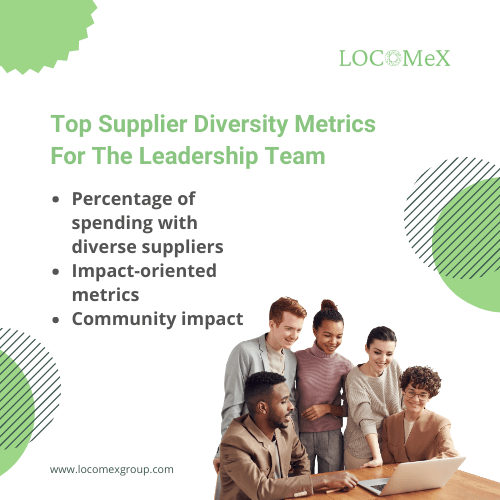 Tips For A Successful Supplier Diversity Program
Here are some tips for better implementation of your program.
Keep your supply chain transparent
Transparency in your supply chain makes identifying diverse suppliers easier for your business and keeps your business functioning smoothly.
Set your supplier diversity goals
Decide which diversity groups you would like to add more to your supplier network and why, and keep track of it. A data-driven approach consisting of planning and tracking metrics would help you see the curve of how you progress toward your goals.
An important tip here is to not over-depend on a particular supplier as it may adversely impact your business. Suppose a particular diverse supplier constitutes a large part of your investment. In that case, you risk losing your spending on the supplier if he loses his identity through acquisition by another business.
Frame a policy with supplier diversity initiatives
Let your supplier diversity goals be a part of your company policy which everyone has to follow. Any deviation should need an explanation.
Assist diverse suppliers in upgrading their skills
Your business could assist various groups of diverse suppliers in adding to your supply chain network by conducting workshops and training them on gaining sufficient expertise to win your contract. Also, it helps you to win their trust and commitment for the long term.
Track the progress of the program periodically
Monitor the progress of your supplier diversity program regularly, conduct audits, and take feedback from external and internal stakeholders. Share the team's progress and achievements within the company to boost their spirit. You can automate tracking results by using good
supplier diversity program management software
.
The Best Partner For Your Supplier Diversity Initiatives
LOCOMeX provides supplier diversity data analytic solutions that help you prepare a confident, unfailing strategy that meets your business goals. They have the best AI-powered supply chain optimization software for your project needs. Their products include a supplier portal, ESG metrics solution, and DivedIn, their core product. It is an easy-to-use cloud-based tool that works towards diversity resource planning, automates the task of setting goals, and benchmarks your performance for supplier diversity programs. Reach out to our team to start a robust supplier diversity program today!