The strategy of inclusion of diverse suppliers in the chain of procurement of goods by a company is termed supplier diversity. The business benefits of inclusive procurement of goods are hard to ignore as we see the topmost Fortune 500 companies like Microsoft, Centene, Gap, Target, Intel, and more adapting this strategy and inspiring more businesses to follow the same.
The economic impact of supplier diversity lies in the fact that it shows an increased market share of the sponsoring company within the diverse communities in the nation and creates wealth for the diverse groups while providing scope for innovation within the supplier base for the organization and giving it a competitive advantage over its peers.
Many companies assume to have met the diversity spend amount laid out in government contracts. However, most of the time, the spending lies concentrated with a few diverse-owned businesses and allows a false measure of the success of the company's supplier diversity program. Using reliable
supplier diversity program management software
can help companies track the details accurately.
Challenges In Supplier Diversity And Ways To Solve Them
The Billion Dollar Roundtable shows that as of 2022, 28 leading companies have committed to spending
$1 billion annually
with minority-owned and women-owned suppliers. In recent times, more and more organizations have begun to realize the importance of the strategy and set up several programs to improve supplier diversity within their network. However, they face several challenges in their journey, most of which can be overcome through digitization.
Identification of existing diverse suppliers
With many vendors and manufacturers participating in the procurement process of goods, a major challenge for organizations could be identifying the diverse suppliers within their supply chain, making it difficult to track and report their diverse spending.
Solution: Enhancing transparency in your supply chain
Increasing transparency in your supply chain by using good
supplier diversity reporting software
can help you overcome this challenge. Transparency in your supply chain also brings in scope to find diverse suppliers for better diverse inclusion. Once you track the diverse suppliers, you can further focus on finding diverse suppliers of other categories and incorporate them into your business stream.
Verification of the new diverse suppliers for inclusion
One of the biggest challenges for majority-owned businesses is accurately identifying the diverse suppliers they want to add to their network. The procurement teams must verify that the vendors are diverse per the requirements below.
Diverse businesses could be any businesses in which 51% of the owners fall into any of the following categories:
Women-owned businesses
Minority-owned businesses – owned by African -American, Native American, Hispanic American, or Asian American.
GLBT-owned businesses
Service-disabled veteran-owned small businesses / disadvantaged communities
Solution: Verifying the certification
Before inclusion, your organization should verify that the businesses should have obtained a supplier diversity certification from national organizations in addition to meeting the above criteria. The list of authorities includes:
The National Minority Supplier Development Council (NMSDC).
Women's Business Enterprise National Council (WBENC).
United States Hispanic Chamber of Commerce (USHCC).
National Gay & Lesbian Chamber of Commerce (NGLCC).
Asian Pacific American Chamber of Commerce (APACC).
Native American Chamber of Commerce (NACC).
The National Veterans Business Development Council (NVBDC).
The
supplier portal tool
can make this verification easy and accurate.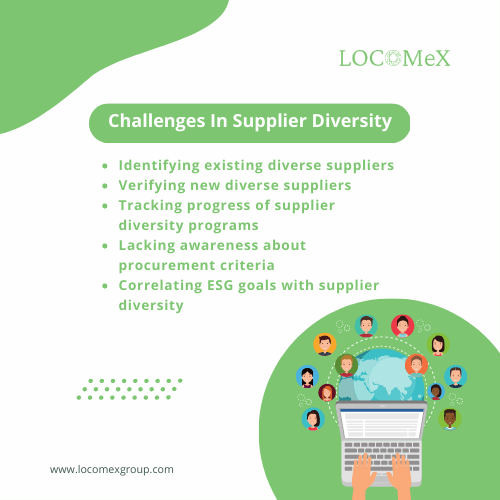 Tracking the progress and communicating benchmarks
Manual tracking of progress in the supplier diversity program may take time and effort. Also, there should be periodic communication of the progress against the program's benchmarks to your employees and staff members through internal channels and company newsletters.
Solution: Define goals, create a policy statement, and track progress using tools
Firstly, define your diversity goals. Lay out milestones in your goals with realistic targets on the number of suppliers, spending amount, and timelines to achieve them. Create a corporate policy statement defining your goals and pass it to your internal stakeholders, including your supplier diversity team and procurement teams, to know how to evaluate potential suppliers. Decision-makers should avoid biases in selecting suppliers and make the selection process easier.
You may track your goals of having a diverse supplier base and your progress towards fulfilling your corporate social responsibility with the help of a good
supplier diversity reporting software
called ESG Metrics Solution.
Lack of awareness in diverse groups about your procurement criteria
Supplier diversity programs provide diverse groups an opportunity to increase their income. However, to avail of the advantage, the diverse groups need to know the procurement criteria to find a place in your supply chain.
Solution: Sourcing events and conducting training programs
Your organization can take up the initiative of creating awareness among diverse groups about your procurement criteria. Technology becomes useful in scheduling and organizing training programs and inviting diverse perspectives in small business administration.
The business case of Shell Oil Company is a good example here. The company set up a resource center to let diverse suppliers engage with the organization by letting them know the required products and services. It added to the success of its supplier diversity programs.
Alignment of your ESG goals with that of the supplier diversity program
As a business leader, you need to correlate your key business objectives with the purpose of the supplier diversity program you sketched. It would be best if you projected the correlation to your executive team, employees, and external stakeholders to win their support and trust in striving toward fulfilling your company's objectives.
Know whether the initiatives taken to expand your diverse supplier base are driving new opportunities for your organization toward contributing to a better environment, society, and governance. If yes, you know your supplier diversity program is on the right track. You will need to pick the
best supplier diversity reporting software
for tracking the ESG metrics of your organization.
Here's Where You Can Find Professional Help
An important tip in establishing a successful supplier diversity program is to use the right tools for easy tracking and connecting to diverse suppliers related to your industry. You need a professional service of a technically adept team that uses effective
supplier diversity reporting software
to work following your business needs.
The
best supply chain optimization software
at LOCOMeX is ready to provide you with outstanding supply chain solutions to guide your business through an innovation-driven digital transformation. LOCOMeX works with AI-powered data-driven tools that guide businesses through the procurement process by connecting enterprises with suppliers across the globe.
Partnering with LOCOMeX, the Supplier Diversity Data Analytic Solutions, allows you to utilize their innovative optimization tools like DivedIn, Supplier Portal, and ESG Metrics Solutions that help solve the challenges in meeting your organizational goals.