The Inflation Reduction Act of 2022 (IRA) is a historic federal law in the United States that seeks to control inflation by investing in domestic energy production, cutting prescription drug costs, and reducing the deficit while supporting sustainable energy. On August 16, 2022, President Joe Biden signed the biggest package of climate investments into law after the 117th United States Congress approved it.
The plan, as passed, will raise $738 billion and permit spending of $391 billion on energy and climate change, $238 billion to reduce the deficit, three years of Affordable Care Act subsidies, tax reform, and price-lowering prescription drug reform.
According to a few independent analyses, the bill will make investments to combat the climatic conditions in American history. It will also help the country achieve President Biden's goal of reducing greenhouse gas emissions by less than 50% compared to 2005 levels by 2030 and reaching net zero emissions by 2050.
How Will The Inflation Reduction Act Help Climate Change?
The United States is historically the single largest contributor to climate change, with more than 22% of greenhouse gas (GHG) emissions.
However, following the Inflation Reduction Act, the government promised to boost global climate finance, deal with adaptation, lessen methane pollution and deforestation, and support the U.S. economy in transitioning from coal and other fossil fuels. Hence, let us know how the Inflation Reduction Act could combat climate action in five ways.
1. Huge investments in clean energy technologies
The law would allocate $369 billion in funding over 10 years for tax credits on clean energy and electric vehicles, making clean energy the most affordable alternative for Americans. This bill includes tax credits incentives for electric appliances, heat pumps, and other technology to allow businesses and consumers to shift to renewable energy systems.
Also available to consumers are $7,500 tax credits for brand-new electric vehicle purchases and $4,000 rebates for used electric vehicle purchases. That implies the provisions would cut people's energy costs and, over time, assist the nation in "transforming" its whole energy system.
Utilize LOCOMeX's enterprise ESG software and AI-powered DivedIn Tier 2 to assess and improve your spending objectives.
2. Keep the climate goals within reach
President Biden's carbon reduction targets are part of the Paris Agreement's more general objectives, which aim to keep global warming below 1.5 degrees Celsius to prevent irreversible effects on ecosystems and human health.
According to climate experts, the IRA's aggressive action may lower U.S. emissions by 40% below 2005 levels by the next decade, which would be a significant step in preventing the worst effects of global warming. And according to a preliminary assessment by the Rhodium Group, an independent research and data company that monitors such goals, found that the Inflation Reduction Act and other federal, state, and municipal policies could help President Biden achieve his objective.
3. Aims to curb methane pollution
Methane is a strong GHG emitted into the environment through coal, oil and gas drilling, and transportation. And according to the U.N. Environment Program, methane releases are to blame for around 30% of the planet's warming from preindustrial times because it has an 80 times greater ability to warm the planet than carbon dioxide.
Hence, the bill would impose a charge to penalize fossil fuel firms for excessive methane emissions from oil and gas drilling.
4. Emphasis on environmental justice
Along with tax credits, the legislation allots $60 billion for environmental justice programs in underprivileged communities that experience disproportionately negative effects from the climate crisis. This law includes $1 billion in funding for clean buses, garbage trucks, and other heavy-duty vehicles and $3 billion to support accessible and clean transportation, thereby reducing air pollution.
Moreover, the electrifying truck is a crucial step in the fight against the climate crisis because trucks and buses account for 30% of air pollution that causes the planet to warm. Hence, these measures would benefit communities on the front lines as they deal with challenges like air pollution from industrial facilities and other natural disasters.
The best project-based ESG scoring tool from LOCOMeX offers the scope 3 emission reporting data on the project level.
5. Conveys important message to international partners
The Inflation Reduction Act would be crucial in letting the world know that the United States is committed to doing its share to combat the climate crisis. The action would help the nation catch up to aggressive climate policies and inspire other nations to take similar action.
Hence, the bill would put the U.S. in a much stronger position to encourage other countries to uphold their current obligations and elevate their objectives.
Check out LOCOMeX's enterprise ESG software that offers supplier diversification planning and deliberate local content procurement.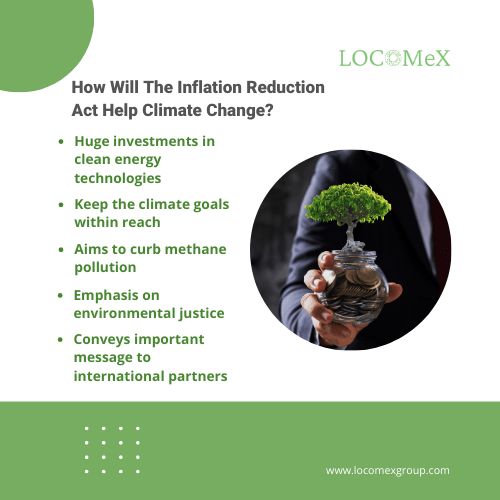 How Does The Inflation Reduction Act Affect The Economy?
According to experts, the bill will take incremental steps to bring inflation back to normal. In general, it will assist the Federal Reserve in the following ways, primarily in charge of controlling inflation.
The IRA's investments in clean energy will help lessen the U.S.'s dependence on fossil fuel-dominated world economy. For instance, this Act will contribute to a more than twofold reduction in U.S. oil demand compared to the quantity previously imported from Russia.
The Act aims to spur investments in domestic manufacturing capacity, promote domestic or free-trade partner purchases of essential supplies, and accelerate R&D. Also; it will allow the commercialization of cutting-edge technologies such as carbon capture, storage, and clean hydrogen.
The enterprise ESG software from LOCOMeX provides a comprehensive cloud-based PES platform that links businesses and organizations with worldwide suppliers.
The law encourages business and gives American people specific incentives to decarbonize their homes by installing rooftop solar, replacing furnaces and water heaters with heat pumps, and performing energy-efficient renovations on houses, apartments, and affordable housing. With these adjustments, families can reduce their annual energy bills by $1,800.
The IRA aims to reduce the price of prescription drugs by allowing Medicare to bargain prices with pharmaceutical companies, capping medication prices against inflation, and reducing out-of-pocket payments for Medicare beneficiaries. Additionally, it adds a three-year extension to the Affordable Care Act (ACA) subsidies. And through 2031, the CBO projects that these policies will save the federal government $173 billion.
The Inflation Reduction Act not only works to combat inflation and reduce costs for families, but it will also help Americans buy new climate-friendly appliances and life-saving pharmaceuticals, allowing them to breathe a little easier. It is also anticipated that it will create 1.5 million good new jobs.
Hence, examine your company's ESG and diversity performance on a project-by-project basis so that you can implement improvements based on advice from LOCOMeX's best benchmarking tool and enterprise ESG software. So, reach out to our experts now and check on our services.