Do you know what topics are frequently discussed in boardrooms nowadays? It is about implementing sustainability initiatives into the company's ERP system and moving toward a green future.
Many organizations have adopted the triple bottom line, which contends that an organization should focus more on environmental impact, sustainable practices, and social responsibility apart from profits. These focuses are often called the three Ps- people, planet, and profit. And this environmentally friendly method of doing business frequently results in improved corporate success. Few examples:
Coca-Cola met its target of reducing relative carbon emissions by 25% by 2020, compared to the baseline year of 2010.
Ford cited that better energy efficiency and conservation at sites and in manufacturing processes have resulted in a 40% reduction in their carbon footprint over the past ten years.
Whirlpool reported record-low energy and water intensities in their factories in their 2020 sustainability report.
So, what exactly do sustainable business objectives look like in the modern world? It is through adopting Enterprise Resource Planning (ERP) software for long-term viability without compromising the needs of future generations. So, let's learn what ERP is in sustainability strategy and how it enhances business efficiency.
How Does ERP Contribute To Achieving Sustainability Goals And Objectives?
ERP systems
drive sustainability goals because they give business leaders the necessary visibility and control. The following are a few ways an ERP system can efficiently contribute to achieving company goals and drive sustainability objectives.
An organization can track its usage of water, power, and other natural resources, as well as its greenhouse gas emissions and other pollutants. Businesses can use theAI-driven ESG Benchmarking Tool from LOCOMeX to assess and track the efficacy of the installed emission control measures.
Businesses can attain visibility to the entire supply chain operations, improve supply demand planning, ensuring that raw materials and finished goods are sourced from environmentally friendly vendors.
It also provides inventory reports and improves supply chains, determining which goods are the company's main revenue generators and which add unnecessary expenses.  LOCOMeX's transactional AI-powered engine  manages an organization's supply chain optimization and supplier diversity spending.
Streamline complex operation and helps with waste management throughout manufacturing, and drive sustainability goals.
Automation in data management operations helps to distribute accurate data efficiently.
Adopting ERP systems helps to easily address waste problems (more than just physical waste), such as excessive use of paper documents and storage space, inadequate inventory management, and overproduction caused by inaccurate planning or lack of reporting tools.
Cloud providers like Google Cloud Platform (GCP) and Amazon Web Services (AWS) are dedicated to making their data centers carbon-neutral. Adopting a cloud-based ERP helps to switch from your on-premises data system and decreases the overall carbon effect on your company's data center.
ERP systems provide all the software needed to function efficiently. Thanks to modern project management tools connected with ERPs, remote working is as convenient as working in an office.
How Does ERP Contribute To Achieving Sustainability Goals And Objectives?
Let us learn how an ERP might help you gain a competitive edge in the market:
Tailor ERP systems to your business: ERP solutions help a company reach its full potential by providing uniquely tailored solutions to the firm and what it does.
Increased accuracy allows for greater efficiency: Centralizing all information enables to better manage the business without relying heavily on paper and spreadsheets, decreases the potential for human mistakes, saves paper, and saves time and money.
More information offers insights for better decision-making: You can always access the most important company information with real-time reporting data. (Check out LOCOMeX's project-based ESG scoring tool.)
ERP software allows to run 'Lean' production: The improved availability and visibility of real-time data enable companies to adhere to the lean principles, such as only buying how much materials are needed, when it is needed, releasing cash flow, reducing stock in stores, etc.
ERP systems are prerequisites for agile manufacturing: Agile manufacturing enables businesses to respond to market shifts and consumer demands while maintaining cost control.
Hosted solutions take a weight off your mind: Your ERP program can be run as a hosted solution with excel. Hence, you won't have to concern yourself with security, disaster recovery, or hardware/bandwidth scalability issues.
How can ERP help in enhancing business efficiency and effectiveness?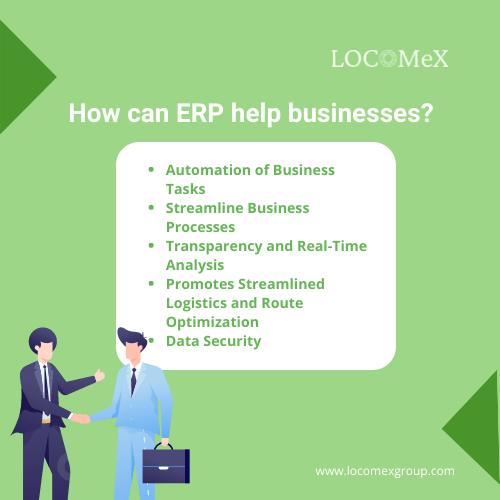 ERP systems significantly increase the efficiency and profitability of your business. Let's learn how:
Automation of business tasks: ERP aids in automating various corporate procedures and duties while boosting productivity across many departments. Hence, repetitive duties are reduced, freeing more time for other activities.
Streamline business processes: When a successful ERP is in place, inventory management is improved, and departmental communication becomes simple and smooth.
Transparency and real-time analysis: The main USPs of ERP systems are transparency and access controls. Real-time data is accessible to all organizational departments, allowing for proper job planning.
Promotes streamlined logistics and route optimization: By improving logistics, GHG emissions are reduced while simultaneously saving time and human resources.
Data security: Data is protected in a central database with the help of ERP systems, thereby lowering the possibility of failure while increasing safety.
The LOCOMeX platform gives businesses visibility, transparency, and control over how they spend their budgets for supply chain procurement, supplier diversity, and ESG programs. 
LOCOMeX's flagship product, 'DivedIn,'
is a cloud-based platform for collaborative diversity resource planning and smart local content sourcing. Its AI-powered data driven-tools like Scope 3 Emissions Management Software, Corporate Sustainability Software, and
ESG Reporting Software
aid in delivering efficiency in production, reporting, and demand planning. So, why wait?
Contact our expert team
now to explore the services we provide.