The notion of sustainability for businesses is to alter their goods and services and become the gold standard in their employee value proposition.
People worldwide are becoming more interested in and knowledgeable about how corporations can meet their business needs without jeopardizing future generations' economic, environmental, and social welfare. Investors are redefining shareholder value while applying non-financial metrics to their objective assessments.
Companies that adopt sustainable practices can reduce global warming, improve their social responsibility, and enhance their financial performance. Here are the 10 most sustainable corporations in the world, based on different rankings and industry criteria:
Apple is an American technology giant that produces devices such as the iPad, MacBook, iPhone, Apple Watch, and AirPods, as well as software and services such as iOS, macOS, iCloud, Apple Music, and Apple TV+. It was ranked the second most sustainable tech company in the world by Greenpeace in 2017 and the most valuable brand in the world by Interbrand in 2021. Apple has achieved carbon neutrality for its operations and aims to do so for its entire supply chain and infrastructure by 2030. 
Revolutionize your ESG performance with LOCOMeX's Best
Project-Based ESG Scoring Tool
, enabling companies to drive meaningful change while staying ahead of the competition.
With the launch of the Green Machine, H&M, a global leader in clothing and fashion accessories retailers, significantly contributed to fabric recycling technology. With the help of this technology, the Swedish retail industry will be able to meet its goal of using 30% recycled materials on all of its products by 2025. It also promised to increase this to 100% by 2030. Additionally, H&M has set a scientific goal of reducing GHG emissions by 30% by 2030.
Adidas is a company that has been committed to sustainability for decades. They began focusing on healthy and safe working conditions at supplier factories and have since expanded their efforts to encompass materials, transportation, product recycling, and end-of-life. Adidas has also become increasingly direct-to-consumer, which they see as a major business opportunity. The company believes that sustainability is not only good for the planet but also good for revenue business.
Power Generation by Orsted
A power generation company called Orsted is committed to producing large amounts of green energy. Orsted is dedicated to promoting renewable energy so that individuals, organizations, and communities can benefit from it without worrying about harming the environment or limiting opportunities for future generations. Orsted wants to build enough renewable energy to power 55 million people by 2030 and 30 million by 2025.
Global IT services provider Autodesk aims to "make the new possible" by empowering innovators with design and technology.
Their technology enables innovators everywhere to tackle problems of all sizes in architecture, engineering, construction, product design, media, and entertainment.
From green building manufacturing to smarter infrastructure to mesmerizing blockbusters, Autodesk is changing how the world is designed and made easier for the environment.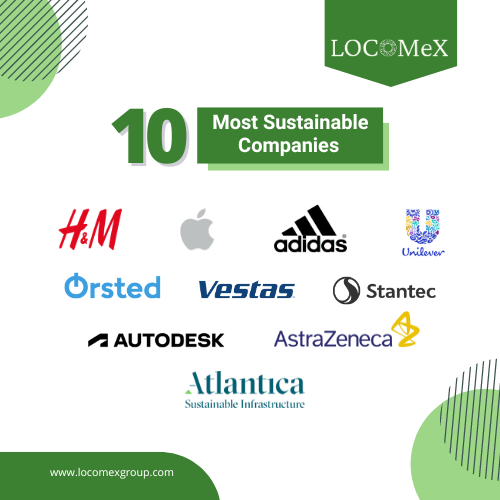 Vestas define sustainability as minimizing or eliminating harmful environmental and social impacts while maximizing the value their operations and goods offer to their customers, staff, shareholders, suppliers, local communities, and society. These companies are innovators in the industry because of this vision, which guides their corporate behavior.
They have installed more wind power than anyone else, with 160GW+ wind turbines in 88 countries. They develop, manufacture, deploy, and maintain wind turbines worldwide.
In addition to being one of the most sustainable industries in the world, Stantec Company Inc is also a pioneer in North America. Half of the company's overall revenue came from clean earnings and reducing carbon footprint, products, and services with a positive impact on climate change.
According to Gord Johnston, Stantec's president and chief executive officer, the company's impressive sustainability track record results from its people's strong commitment and effective global management.
AstraZeneca increased its commitment to plant 200 million trees by 2030 and ensured their long-term survival by announcing a $400 million investment in its global AZ Forest program.
The investment expands on AstraZeneca's initial pledge to AZ Forest, made public in 2020, to grow more than 50 million trees by the end of 2025 to recognize the interdependence between human health and the environment's health.
Atlantica Sustainable Infrastructure
Atlantica is a sustainable innovation company that is committed to mitigating climate change. Their sustainability goals include reducing Scope 1 and 2 greenhouse gas emissions effects by 30% by 2030 from a 2020 base year. Atlantica is also working to reduce its water consumption and reducing waste. The company is certified to ISO 14001, the international standard for environmental management systems.
Atlantica invests in renewable energy, improving energy efficiency, water preservation, and waste manufacturing. These efforts are helping the companies to focus on climate commitments and overcome their environmental challenges.
Fostering a culture of corporate responsibility, LOCOMeX's
Enterprise ESG Software
empowers organizations to thrive by seamlessly integrating sustainability principles into their core operations."
Unilever's Sustainable Living Plan, launched in 2010, exemplifies a corporate commitment to sustainable development. It focuses well-being of the livelihood, and the plan aligns profit with purpose through ambitious goals and innovative solutions. Unilever aims to have a sustainable approach to 100% of its agricultural raw materials by 2023 and has already achieved this for key commodities. Through product innovation like OMO EcoActive and The Vegetarian Butcher and collaboration with suppliers and young entrepreneurs, Unilever drives positive change throughout its value chain. Sustainability is its core business strategy, ensuring a meaningful impact for customers and businesses.
If you are confused about where to start, LOCOMeX is an AI-powered ESG and
sustainability management software
that allows companies to track their ESG goals and compliance. Let's grow your business sustainable manner.