The ability of machines, especially computer systems, to imitate human intellectual functions is known as artificial intelligence. Examples of particular AI applications include expert systems, machine learning, speech recognition, natural language processing, and machine vision. Artificial intelligence (AI)-powered analytics are a "must have" for businesses today regarding digital transformation. Any organization that relies on data to manage its operations and uses data as the primary source of information can attest to this.
Locomex, with its Al-powered data-driven solutions, helps meet the organization's supplier diversity goals. The organization uses AI data-driven platform to make it an easy process for the research to ensure it meets the required fields' good environmental, social, and governance areas. Supply diversity, in many ways, has become a very important role in business to follow strong moral and ethical values to create a competitive spirit in the company.
Benefits Of AI-Driven Solutions To A Data-Driven Organization
AI-driven solutions enhance the quality of work, improve the performance of the business, create demand and value in the market, and help enhance the customer experience. AI Adoption helps achieve unexpected outcomes or success in
AI-centric businesses
and makes their business strategy unique from the existing. The use of speed, size, and granularity that AI and machine learning can provide is revolutionizing the analytics industry. Google and Amazon are examples of organizations powered by AI technology.
Divedln
, diversity planning, and team optimizer play a very important role in integrating cloud-based and AI-driven solutions for budgetary planning and strategic sourcing, de-risk the process to set the goals for the supplier's diversity program. There are several benefits of an AI-driven organization that help the enterprise works effectively:
Scalability : Any software included with AI can easily scale larger and larger without any disturbances imposed on the physical systems. AI technologies are more scalable than physical automation, like robotic process automation, which requires less research.
Expanded scope : The expanded scope refers to the width of company services and offerings for a better future, such as expanding the company's customers and income. For an organization, the most important thing to apply AI is to choose the correct data scientists who are experts in data engineering, data science, and data analytics for better customer experience in the future.
Cost control :  Once AI is deployed, it can help massive cost savings by reducing time and resources. AI helps the organization to reduce labor costs and improve quality by making workflow more efficient. Cloud computing can dive deeper to analyze data and solve problems very effectively and efficiently, which helps reduce costs and time.
Productivity gain :  It is one of AI's most often cited benefits in data-driven enterprises. AI technology allows the worker to handle those tasks that the computer cannot perform. That's how a data-driven company uses its AI tools to enhance its productivity for a better future.
Data analysis :  Machine learning is a type of data analysis that automates analytics. AI is also very efficient in making decisions and maintaining data privacy with minimum human interference.
 Increases the speed of business decisions : Nowadays, data-driven industries like marketing are growing very fast, and AI algorithms, which means an extended subset of learning that instructs the computer to learn to operate on its own, helps business grow even faster.
Change management : This sounds a little wired, but using AI makes the company easy to scale the environment when supporting multiple customers and departments. Instead of maintaining different departments, AI can perform all the tasks in one go can help reduce human resources.
Improves monitoring :  AI helps to monitor easily in any data-driven enterprise. AI can gather information from multiple devices in the factory infrastructure to identify the problems in the machines and provide the appropriate solution required. AI also helps in such industries where a large number of data needs to be analyzed to achieve the desired success in the future.
Big data analytics :  Big data is one of the best AI solutions in data-driven companies that help store huge amounts of data. Data tiers are often in the form of public cloud, private cloud, and flash storage, depending on the information's size and importance. Many companies use big data tools such as Hadoop, NoSQL, etc.
Integration of data and analytics: It  enhances a company's core competencies to unlock hidden business opportunities and make them more effective and worthy.
Decision-making :  Decisions will be made quickly with meaningful insights and required data. It helps businesses invest within the right infrastructure, people, and governance processes to achieve a better outcome.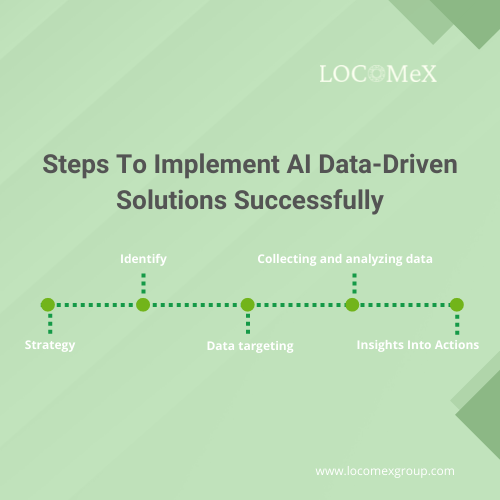 Initiatives To Make Al A Data-Driven Organization
Data embedded, Interaction, and Process : Organizations, often apply data-driven solutions from predictive systems to AI-driven automation throughout the organization. Employees can focus on best practices of human domains, such as innovation, collaboration, and communication.
Data processed and executed in real-time :  Data connected from various network devices is ingested, processed, queried, and analyzed. Data generated, processed, analyzed, and visualized for users is dramatically transformed by new technologies, such as kappa or lambda architectures for real-time analysis, leading to faster and more powerful insights.
Flexible data stores enable integrated and ready-to-use data :  Though the data is driven by unstructured or semi-structured data, most usable data is still structured using relational database tools. Leveraging an array of database types by including time series, graphs, and NoSQL databases will enable more flexible ways of organizing the data.
Steps To Implement AI Data-Driven Solutions Successfully
Strategy :  It helps focus your attention by weeding out all the data that's not helpful for your business. All companies should make data-driven strategies to achieve the best outcome to become the best. They can also create data on cloud strategies to help identify multiple business opportunities and enhance the business processes' data quality and efficiency.
Identify :  It's essential to manage the multiple data sources in data-driven and identify the areas that will bring the most benefits; those areas will be the key to achieving your overarching business strategy.
Data targeting :  After identifying the areas of business that will benefit the most from analytics. It involves looking at the data to find the most valuable information sources. This will helps streamline data according to your business objectives, which helps to keep data storage costs by focusing only on the data and analytics required.
Collecting and analyzing data :  Most useful data will be collected at all levels and come from external and internal sources, giving a well-rounded view of what's happening across the business. The more complex the query, the more analytics and decision-making skills are needed to analyze the data.
Insights into actions :  Right infrastructure of the business can derive complex sets of data and present them in a way that makes your insights most effective. Every organization looks for innovations and uniqueness to survive. Drive innovations help invite diverse suppliers by which a business generates new ideas, fresh perspectives, and experiences that encourage creative approaches to satisfy the demands of clients.
Generating new ideas in a data-driven company expands the designs to discover unique designs in the markets. While generating ideas, AI adoption helps address the complexity of today's networks, drive efficiencies, improve customer experience, and open new profitable streams to meet the 
Supplier Diversity
 goals for organizations. Suppliers' diversity is a great method to attract brand champions who can support the company in long-term to achieve the best outcome. LOCOMeX tools with the AI-Powered Data-driven predictive intelligence helps organizations meet their ESG & Sustainability goals. It features the only project-based ESG scoring tool on the market that can offer auditable investment-grade ESG & scope 3 emission reporting data that is generated at the project-level within the supply & value chains. Request a Demo with our experts and discover more insights.